Learn how to make a DIY Ornament Wreath using colorful, shatterproof ball ornaments
Is there anything more festive than those bright and shiny, vintage glass ornaments your Grandma had? There is something very special about the way they catch the twinkle lights on the Christmas Tree.

But, did you know you can also use less precious, inexpensive but still beautiful ornaments to make an awesome Christmas wreath?
---
The basic steps for making a DIY Christmas Wreath with Ball Ornaments:
Gather supplies: Wire wreath form, Ornaments, Floral Wire, Wire cutters, Glue Gun
Cut a bunch of wire pieces
Attach 3 ornaments to each strip of wire
Secure the ornament bunch to the wreath frame
Repeat, covering entire form
---
I've been seeing some gorgeous Christmas Wreaths made with those old glass ornaments. And while they are stunning, they are also very breakable.

Plus, I only have a few … not nearly enough ornaments for an entire wreath but, I came across something even better!
Last year, while wandering around Michaels craft store, I found tubes of colorful shatterproof ball ornaments. They came in a wide variety of color combinations, textures and sizes from small opaque globes to large, transparent balls.

Some of the ornaments are shiny while others are sparkly and glittery. Perfect for making an ornament wreath for any occasion.
Plus, I absolutely love that they are shatterproof and non-breakable. If you have little children running around your house, you won't have to worry about the ornaments breaking.

So, let me show you how easy it is to make your own DIY Christmas wreath with ball ornaments.
Don't miss this awesome collection of DIY Christmas Crafts and Decor Ideas and Christmas Ornament Free Crochet Patterns
In This Article


I have more Christmas crafting fun, DIY Christmas Wreath Ideas and unique DIY Christmas Ornament Ideas articles.
How to make an Ornament Wreath
Before you begin your wreath, take a quick look at the hangers on the ornaments. Some of mine were very loose and came out easily. If you find some of those, go ahead and hot glue them into place.
Also, if your set of ball ornaments has a variety of different colors and textures, take a moment to think about how you want to arrange them.
Assemble the Wreath
To begin, you will first want to cut a bunch of wire pieces, about 7-8″ long and then bend the wires in half. Go ahead and cut 30 or so. You can always add more later, if needed.
Now, you will take one of the folded wires and thread 3 ornaments through their hangers. Twist the wire 2 or 3 times to secure them.
My ornaments came in 3 different sizes so I used 2 large and 1 small one per piece of wire, varying the colors and textures.

This helped to balance out the overall look of the Christmas Wreath. If your ball ornaments are all the same size, you don't need to worry about that part.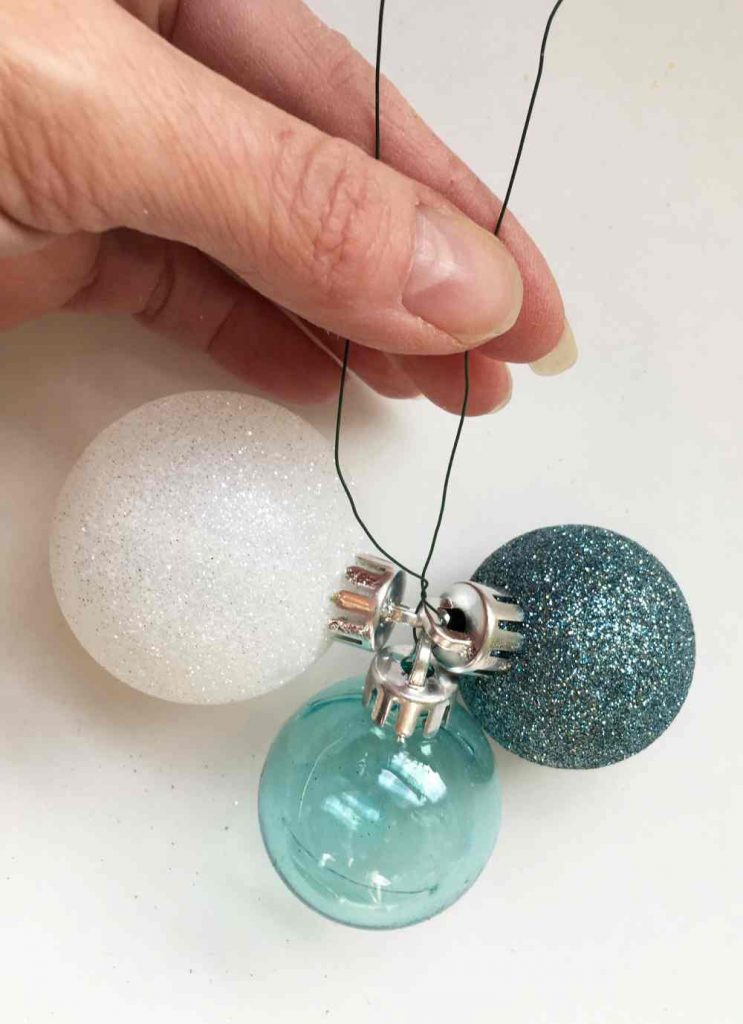 Now, take that cluster of ornaments and secure it to the wreath frame by wrapping the ends of the wire around it tightly.

Then simply, repeat making clusters and attaching them to the frame until the entire front and side of the wire form is covered with ornaments.

Make sure the clusters are snug against each other. You don't want them to be shaky or loose.
My wires are a little messy back there but trust me, they are not at all visible. And, you can always trim the excess wires, if you like. Just don't trim them too short so you don't lose any ornaments!
Finally, check over the completed wreath for any gaps or holes in the ornaments.

If you find a gap, you can string just 1 small ornament on the wire and tie it into place. You can also make adjustments if you see an imbalance in the colors. Don't be afraid to experiment. There is no right or wrong here.
As you can see, I did not place any ornaments on the back of the wreath form. You can fill it out completely or leave the back without ornaments. Either way is fine.

Now that you have completed your Ornament Wreath, the only thing left to do is add a bow and hang it!
How Do You Make a Christmas Bow for Your Ball Ornament Wreath?
I will be completely honest … I am a terrible bow maker! It looks so easy but somehow my bows always turn out lopsided and wonky.

Never fear … I came across this super helpful video which shows you step by step how to make an easy bow for your Christmas wreath.
Once you have your beautiful bow, all that is left is to hang the wreath either with the ribbon or a wreath hook or hanger.

The beauty of using shatterproof ornaments instead of glass, is that you can hang this Christmas Wreath just about anywhere from the front door to a kid's room.
Also, this type of wreath is not just for Christmas or the Holidays. Change it up for the Seasons with white and pink ball ornaments for a Valentine's Wreath or pastel colors for Easter.

Heck, the supplies are so inexpensive, you can make a bunch of ornament wreaths and give them away as DIY Gifts.

I hope you enjoy this project. I would love to see pix of your Christmas Wreaths so feel free to share them in the comment section below.
Annette
Christmas Wreath Storage
Personally, I like to keep my ornament wreath up year round. It's just so pretty and colorful! If you don't wish to do that, however, there are wreath storage containers made for just this purpose.
What is the Meaning of a Wreath at Christmas?
According to this article on the Time Magazine website, the use of evergreens during the Christmas holiday began in Germany around the 16th Century.

The trees were shaped by pruning the limbs which, instead of being thrown away, were shaped into wreaths.
DIY CHRISTMAS WREATH WITH BALL ORNAMENTS