Upcycle Your Old Blue Jeans into Awesome Denim Yarn for Crochet, Knitting or Weaving into Denim Rugs, Purses and more
Have you seen all of the posts lately about making yarn out of old t shirts? That's pretty cool and so I thought why not try and make denim yarn that would be perfect for heavier rag rugs or purses and such.

The beauty is that all you need are old blue jeans and some very sharp fabric scissors!
Table of Contents
UPDATE! I have now made TShirt Yarn and here is a tutorial which shows you how to join tshirt yarn or denim yarn.
Who doesn't love a great pair of jeans, right? The right pair of blue jeans is like the little black dress … the statement piece is everybody's closet.

Denim is a wonderful, versatile and strong fabric that's usually made with mostly cotton and a few other materials blended in.
What Is Denim Yarn?
Denim yarn, by definition, is yarn made from denim fabric. However, most commercially made denim yarn is called that because of the color, not the fabric content.
It's super easy to make and fairly inexpensive since most of us already have a pile of old, favorite jeans in our closet. I don't know about you but I have a hard time parting with my favorite pair.
However, if you don't happen to have any old jeans lying around …. don't despair! Check your favorite, local thrift shop. They have plenty.

Also, since about half of the clothes that get donated end up in a landfill, you'll be doing the environment a great service.

The only other thing you need is a really sharp pair of fabric scissors.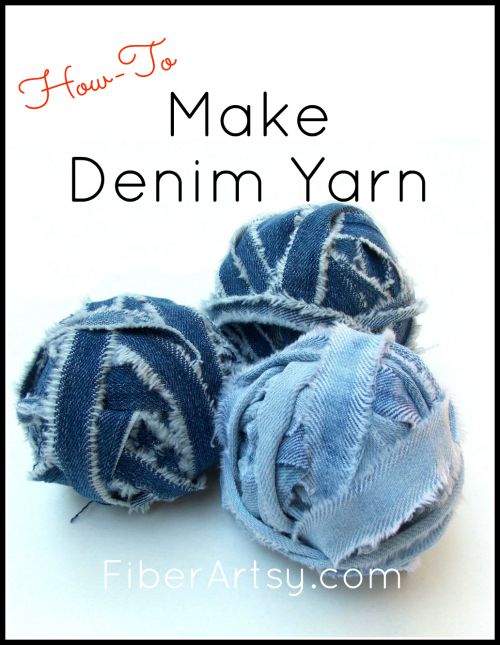 Disclosure: This page may contain affiliate links which means if you click and buy,
we may receive a small commission. See full Disclosure here for details.
Supplies for Making Denim Yarn
– Old Blue Jeans
– Sharp Fabric Scissors
How to Make Yarn from Old Jeans
Making yarn from your old blue jeans is super easy and quick! You can be knitting or crocheting with it in no time at all.
Check your closet or head to the thrift store and pick up several pairs of blue jeans. The larger, the better. Look for straight leg or boot cut which work best since the leg portion is more rectangular than flare.

Also, keep in mind that skinny jeans, although fashionable, won't give you much denim fabric to work with.
In addition, you'll want to make sure your blue jeans are not too old or worn. You don't want fabric with holes or very thin areas. No tears or rips, either.
Your jeans don't have to be 100% Cotton. Denim with a bit of spandex or polyester is fine and will actually make your yarn more durable.
Preparing the Blue Jeans
First, you will need to cut off the pants part of the jeans. There are too many seems with all the pockets and zippers to be useful for making yarn. You can, however, sew a fun denim purse or tote bag out of this part.

Now, using your fabric scissors, make a cut straight across the legs at the base of the pants.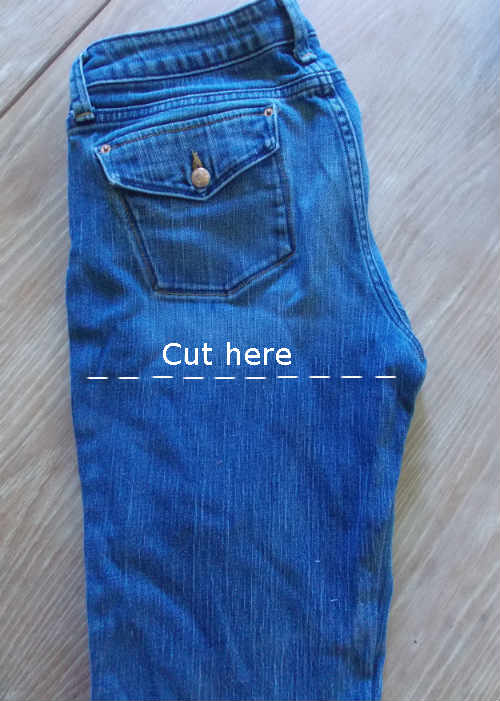 Next, you will cut both of the seams off the legs and the hem at the bottom of each leg. This leaves you with four pieces of denim fabric.

If the jeans are flared at the bottom, you'll need to remove the excess fabric. Trim it until you have a rectangle shaped piece of denim fabric.
Lay one of your denim pieces right side up on your table. Now, look at the outside edge of the piece. Run a finger in a straight line from the top of the right edge to the bottom.
That will show you where you need to make a cut to remove the flare. Make a 1-2″ cut, grab both sides and rip off the excess.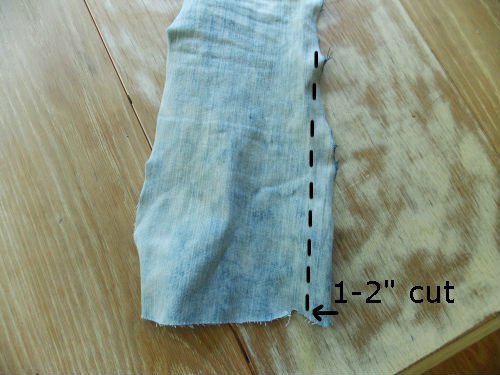 Making the Denim Yarn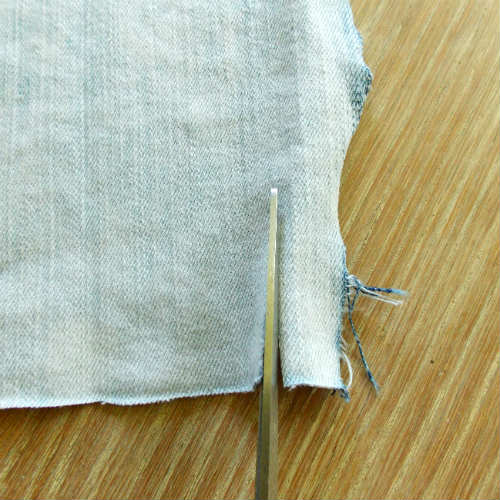 You're going to use the same snip & rip method to make the actual yarn. Lay the piece flat on the table and make a 1-2″ cut about 3/4″ in from the outer edge of the denim.

Firmly grab each side in one hand and rip it all the way to the other end, stopping about 3/4″ from the other end.
Now, turn the piece over and make another cut about 3/4″ from the previous line. Again, tear it to within 3/4″ of the other end. Continue across the entire piece. Sorry if this is confusing!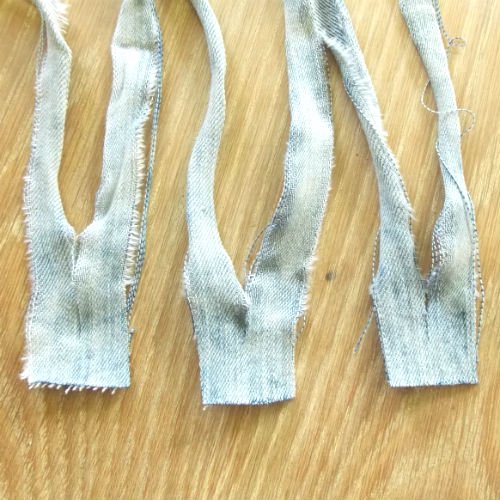 Finishing The Denim Yarn
All that's left now is to trim off any loose threads created from ripping the denim. Also, look at the parts where you turned the jeans. If you want to, you can trim the corners to make the turn more even, but this is optional.
That's it! I used a Size 7 Women's pair of blue jeans which yielded about 38 yards of denim yarn. This is a great material for weaving or to crochet a purse, coasters or even a rug.

Update: I made some crochet trivets or potholders to test this yarn.

Here are some other Recycled Denim Ideas: 12 Great Projects for your Old Jeans

Enjoy!
Annette
FiberArtsy
How Do You Make a Denim Rag Rug?
There are several different methods for making a denim rag rug. One option is to make a braided rug by sewing braided strands of denim yarn together.

Secondly, you can also crochet or knit the strips into a rug. A third option is weaving the denim strips. And finally, the denim yarn can be used for latch hooking a rug. Here's an article which shows you several techniques for making a denim rag rug.
And if you're interested in making TShirt yarn, check out my new tutorial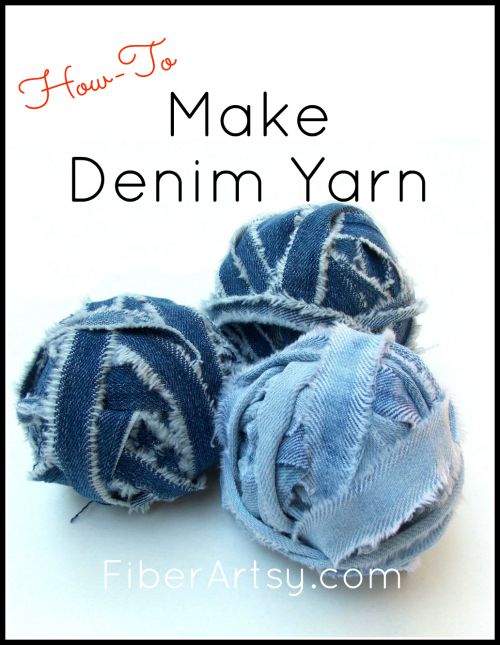 How to Make Denim Yarn from Old Jeans