Fun and Easy way to Paint Glass Christmas Ornaments with Adirondack Alcohol Inks
Disclosure: This page may contain affiliate links which means if you click and buy,
we may receive a small commission. See full Disclosure here for details.
Welcome back to another fun craft project using my favorite Adirondack Alcohol Inks. I've been searching around for some new and fun DIY Ornament Ideas so I want to show you how to paint colorful glass Christmas Ornaments with Alcohol Inks.
Not sure you've noticed, but I'm sort of obsessed with Alcohol Inks lately. The colors are amazing! You can create such gorgeous, painterly effects with them. Honestly, they're very much like watercolor paints but better somehow, brighter. Plus, once again Christmas is right around the corner so it's the perfect time to make some hand painted ornaments.
Also, if you're looking for ideas for Christmas ornaments to make and sell, these little beauties would do really well at a Christmas Bazaar or Craft Show.
My kids and I used to decorate glass globe ornaments by pouring different color paints inside and letting them swirl. Honestly, those are still some of my favorite Christmas tree ornaments. As the paints blended together, the ornaments ended up with a marbled look.
This time, I decided to try painting the glass ornaments with Adirondack alcohol inks. The first ornament I painted with only alcohol ink and while it was pretty, the colors didn't stand out on the clear glass.
After some pondering, I decided to try painting a white background with acrylic paint first. But, instead of painting the outside of the globe, I poured the white paint inside the globe and now the alcohol colors pop!
---
For more Christmas crafting fun, I show you how to make a Make Your Own Christmas Wreath with Wool and 31 Creative Handmade Gift Ideas for Christmas or Birthdays. 14 DIY Christmas Wreath Ideas.
Love Alcohol Inks? You'll love my Alcohol Ink Switch Plate Covers?
---
DIY Christmas Ornament Supplies:
Disclosure: This page contains affiliate links which simply means if you click through and buy or sign up, this site may get a small commission, at absolutely no extra cost to you.
– Clear glass ornaments
– Alcohol Inks (I used Tim Holtz Ranger Adirondack Ink)
– Rubbing Alcohol
– White Acrylic Paint
– Craft Paint Brushes
– Clear Acrylic Spray Sealer
– Disposable cup
– Small disposable container (opening must be smaller than the globe)
– Table cover
Prepare the Glass Ornament
First, you need to remove the hanger from a glass ornament and set aside. Now, open the bottle of your white acrylic paint and squeeze a small amount into the globe.
Gently, turn the globe to distribute the paint evenly inside the globe. If you need to, add more paint and continue to turn the ornament. You want to make sure and cover the entire inside of the ornament with white paint.
Once the inside of the ornament is covered in all white paint, you will want to remove the excess. Otherwise, the paint will take too long to dry. The easiest way I've found to do this is to turn the globe upside down on an old container s.a. a tomato paste can or similar. The extra paint will drip out into the can.
How to Paint Glass Ornaments
Before you begin, cover your work surface. Then, pour some rubbing alcohol in the disposable cup. Since these inks dry quickly go ahead and open all alcohol ink bottles.
Dip a paint brush in the rubbing alcohol and wipe on part of the ornament. Now, pick up one of the bottles of alcohol ink and drip a small amount onto the rubbing alcohol.
Slowly turn your glass ornament and watch the ink flow. You can also blow on the ink to make it move. Give it a minute or two before adding more ink. These inks are hard to control but there's really no wrong way here.
Repeat with a second color of alcohol ink.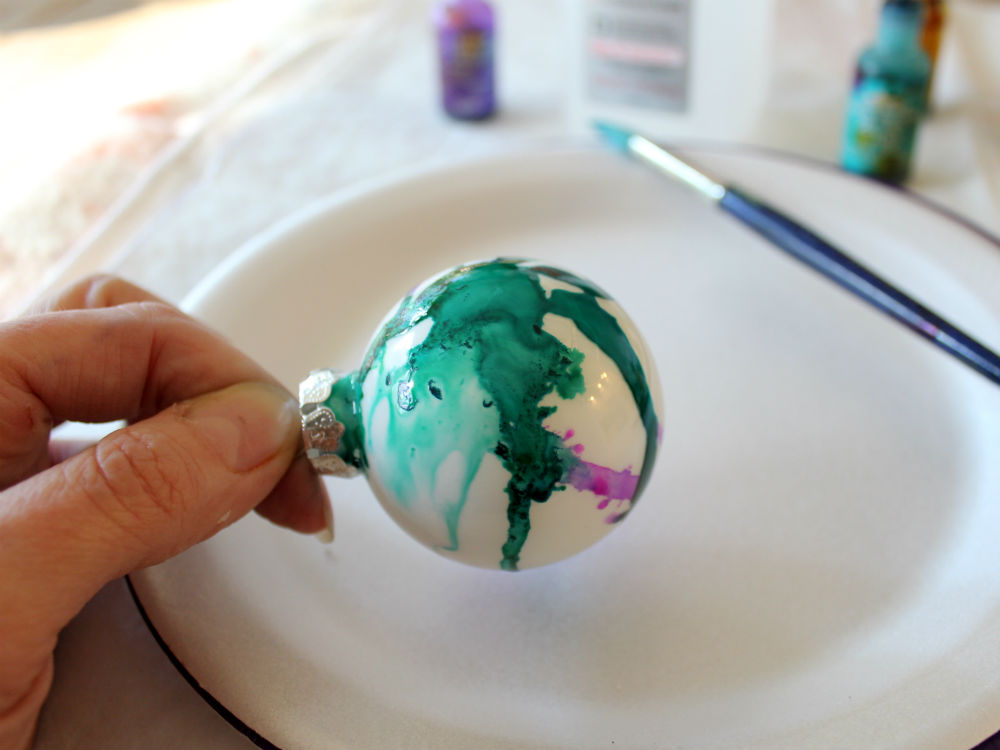 Now, add a third color of paint.
See how the colors are swirling and blending to make new colors? Continue adding color until you are happy with your ornament. Note, it does not have to be completely covered with alcohol inks. The white paint can show through here and there to highlight the other colors.
Finish the Painted Christmas Ornament
Now, carefully re-insert the metal hanger into the glass ornament. Take an old paint brush (or similar) and thread it through the hook and hang your ornament to dry.
For best results, let your ornament dry overnight. You don't want to seal the ornament until the inks are as dry as possible.
How to Seal a Painted Glass Ornament
Now, the only thing left to do add two or three coats of the Acrylic Spray Sealer to protect the paint.

While all of these colors coordinate beautifully, I've found it's best to use no more than 3 per piece. Otherwise, they tend to combine too much and become muddy.
And the best part is, if you're not happy with your painted ornament, you can simply wipe off the alcohol inks and start all over. Obviously, that has to be done before sealing it.
This painting technique works great on all different glass objects from the various Christmas ornament shapes to picture frames. Just keep in mind that the paint won't hold up to rigorous handling. Even though we sealed it, the paint can be scratched.
Want more DIY ornament ideas for decorating glass globes? Here is a great article with loads of clever projects from HGTV.
Enjoy! And if you try this project, please send me a photo of your creation. Make sure and stay tuned … I have an entire post on great DIY ornament ideas coming up soon.
Peace,
Annette
For more Christmas crafting fun, I show you how to make a Make Your Own Christmas Wreath with Wool and 31 Creative Handmade Gift Ideas for Christmas or Birthdays. 14 DIY Christmas Wreath Ideas.
Plus, for more craft ideas with Tim Holtz Ranger Alcohol Inks, see how I made my DIY Alcohol Ink Switch Plate Covers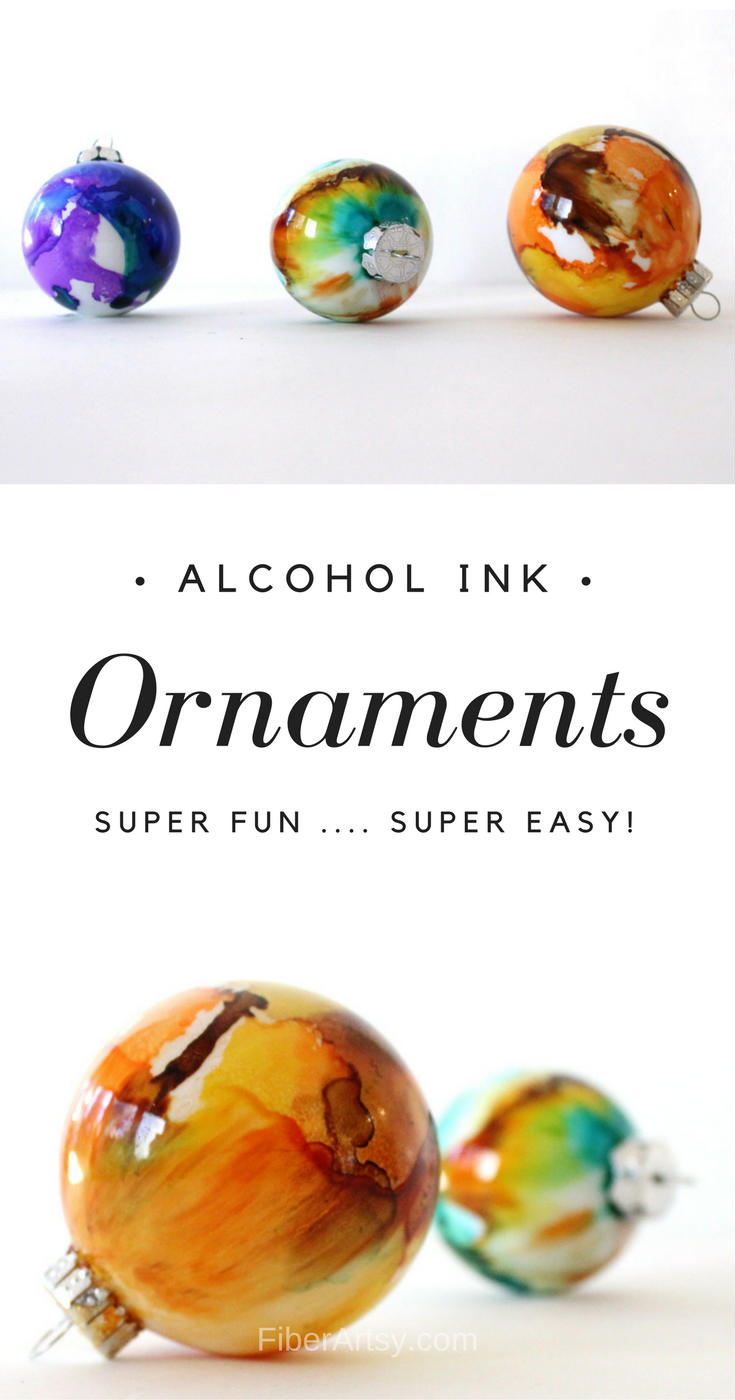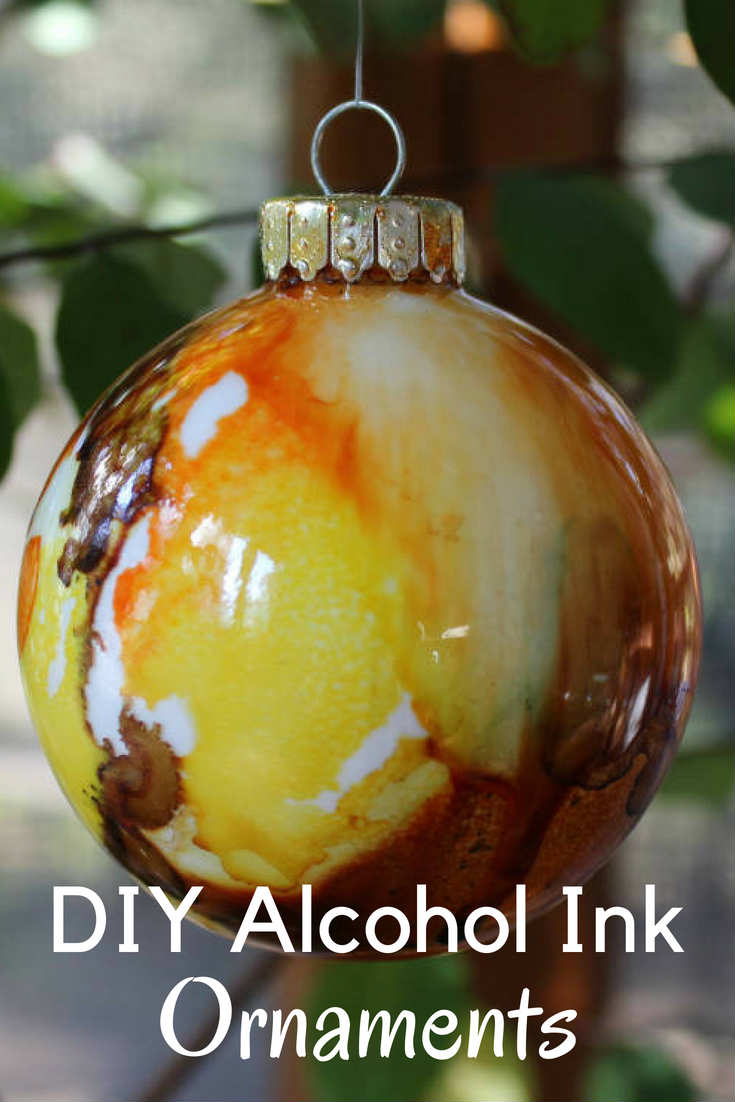 DIY Ornament Ideas – Christmas Ornaments made with Alcohol Inks