Show of hands, who doesn't have a pile of fabric scraps laying around the house?? Anybody?? Thought so. We all have a little hoarder inside saying … Oh, but I may need this someday … don't we? Ya, okay.
So, I asked a bunch of fellow bloggers to share their ideas using fabric remnants and scraps. I'm always so impressed by the creativity! This roundup includes a little bit of everything from hair bows to banners to wreaths and notebook covers.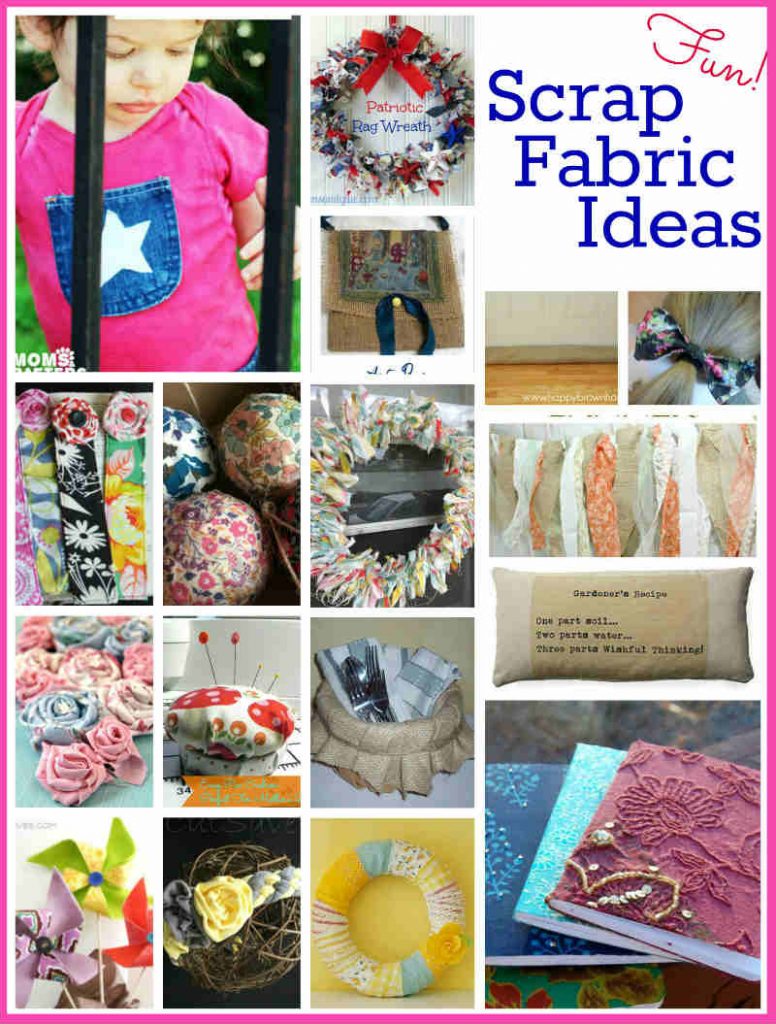 (This page contains affiliate links which simply means that if you click through and buy or sign up, this site will get a small commission, at absolutely no extra cost to you.)




A great, big Thank You to the Ladies for allowing me
to share their scrap fabric projects.
Hope you enjoy them as much as I did.




Clockwise starting at the top left:
1. Super cute Toddler's Patriotic T-Shirt by Menusha of Moms & Crafters
2. Holly of Ribbons & Glue made this fun Patriotic Rag Wreath
3. This great little Art Bag is from Theresa of Dear Creatives
4. Hard to see the pic but that's an easy DIY Draft Stopper by Sara of Happy Brown House
5. Adele of Mammy Made shares a Bow Tie/Hair Bow Sewing Tutorial
6. How about some colorful Fabric Bookmarks from Amy of Marvelous Mommy
7. I love these Fabric Covered Baubles by Jenny of The Gingerbread House
8. Decorate your door with this cheerful Dollar Store Fabric Scrap Wreath by Jeanie of Create & Babble
9. Kat & Melinda of Home.Made.Interest share their pretty Rustic Rag Banner
10. Ashley of 3 Little Greenwoods shows you how to make these lovely Rolled Fabric Flowers
11. Here's an easy to make Pin Cushion from Cynthia of Feeding Big
12. Love this Pottery Barn Basket Knock Off from Summer of Summer Scraps
13. Cynthia of Feeding Big brings you a fun Gardener's Recipe Pillow
14. When's the last time you saw a Pinwheel? Here are Fabric Pinwheels from Theresa of Dear Creatives
15. I love this cute T-shirt Scrap Headband made by Alison of Shortcut Saver
16. Manuela of A Cultivated Nest shares this sunny Fabric Wrapped Spring Wreath
17. And finally, possibly my favorite are these Fabric Covered Notebooks from Shaunta of Going Reno


There you go! Which scrap fabric project is your favorite??


Did you see the Denim Project Ideas Roundup?