Learn how to dye your own beautiful yarn with this complete beginner's guide
Have you ever noticed that even with 1000's of dyed yarn colorways and patterns, you somehow can't find just the yarn you want for that certain knitting or crochet project? That's always been my dilemma. And since I love to play with color anyway, I decided to try hand dyeing yarn.
This page may contain affiliate links which means if you click and buy, we may receive a small commission. See full Disclosure here for details.
Yarn dyeing opened up a whole new world of color for me. There is nothing quite so rewarding as taking a plain, white skein of wool yarn, add some dye powder and turning it into something magical!
In this yarn dyeing guide, I'm sharing with you the secrets I learned over many years of dyeing and working with various types of wool. Not just wool yarn but also raw wool, roving and a variety of fiber including merino sheep, silk and alpaca.
I am going to show you what types of yarn work best with the various wool dyes. And since many of you are just beginning this fun journey, I will also tell you which inexpensive yarns to use for practice.
(This page contains affiliate links which simply means that if you click through and buy or sign up, this site will get a small commission, at absolutely no extra cost to you.)
Should I Buy Sheep Wool or Cotton Yarn?
You can dye just about any kind of yarn from chunky yarn to super bulky yarn, from merino wool yarn to many cheap yarns. The weight of the yarn really doesn't factor into it.
The main consideration is what fiber content the yarn has and that will determine which type of dye you need to use.
For instance, an Acid Dye that works with protein fiber wool will not work on plant fiber yarn such as cotton. In that case, you need to use what is called Fiber Reactive Dye.
People ask me about 'Wool Dye' which I assume means they want to dye yarn made of sheep wool. Again, in that case you need to use an Acid Dye.
Acrylic or Polyester yarn was not really dyeable until fairly recently when RIT came out with a dye specifically for synthetic fibers. I have not tried it, personally, so I can't give you any information on that. But, I'll be sure to update this dyeing guide when I get the chance to experiment.
What Kind of Yarn Should I Buy?
Ultimately, what kind of yarn you get will depend on what you want to do with it. If you have a pattern, it should tell you the weight and yardage you need to complete your project. It may also give recommendations on what type of yarn is best for that pattern.
Some questions to ask yourself:
What weight of yarn do you need? Lace or DK? Check your pattern
Does it need to be machine washable? Stick with Superwash or Cotton Blends
As I said previously, I don't have any experience dyeing cheap acrylic or polyester yarn so I recommend you stay away from them and begin with a natural fiber yarn.
That said, a small percentage of nylon blended in with wool or alpaca is fine. Beware though, that the nylon won't dye like the natural fibers which you may not want but it can produce a nice contrast like the merino wool skein below: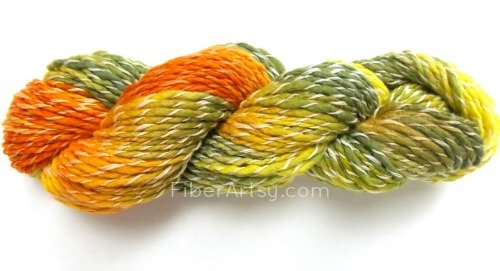 Where Can I Find Yarn to Dye?
If you've never dyed yarn before, I suggest going with a nice, wool yarn that's not too expensive. Just some practice yarn.
When you're ready for something nicer and more expensive, head to your local yarn shop or fiber festival. Those are the best places to find a lovely variety of yarn blends and weights.
Knit Picks has a wonderful selection of bare yarn to dye for every budget. Wool of the Andes is a lovely, soft yarn at a great price that dyes up beautifully. Make sure to check their Sale Page!
Craftsy (now Bluprint) has lots and lots of cool yarn and tons of sales. While you're there, check out their many Fiber Arts Classes
Darn Good Yarn has exotic yarns such as recycled sari silk
Amazon – great place to buy yarn straight from the farm!
You also don't have to limit yourself to white yarn. It's fun to play with overdyeing colored yarn. I especially love the deep, jewel tones I get from over dyeing silver gray.
What Yarn Dyes Should I Use?
Disclosure: This page contains affiliate links which simply means if you click through and buy or sign up, this site may get a small commission, at absolutely no extra cost to you.
That depends on the fiber content of your yarn. Different dyes work with different materials.
If your yarn is made up of protein/animal fibers, you need to use Acid Dyes. (Sounds scary, but the 'acid' is just the white vinegar that you add to help set the dye.) Match the content of your yarn to the type of dye.
I mainly use Jacquard Dyes but there are other, good brands available such as Cushing's Dyes.
Jacquard Acid Dyes – use with Sheep, Alpaca, Mohair, Silk (Protein/Animal fiber)
Jacquard iDye – use with Cotton, Hemp, Linen (Plant Fiber)


Can I just use RIT Dye to dye yarn?
Well, yes you can. However, RIT is what is known as a Composite Dye, which means it has different dye types mixed together for various fibers.
That's good if you don't know the content of your yarn but it won't give you the bright, strong colors of fiber specific dyes. It is, however, readily available and inexpensive.
Does Food Coloring Work for Dyeing Yarn?
YES! Kool-Aid, Easter Egg Dyes or plain Food Coloring work great for dyeing yarn! Food Colors are cheap, easy to come by and you don't need any special pots and pans which makes them a good choice for the beginning yarn dyer.
See my tutorial on Dye Yarn with Kool-Aid
What Other Supplies Do I Need?
If you're dyeing with Kool-Aid or food coloring, you can use whatever pots and pans you have in the kitchen. If, however, you will be using professional dyes, any utensils, dishes or pots will no longer be safe to use for food.
Check out your local thrift store for cheap roasting pans or casserole dishes. Stay away from aluminum, however, as that can affect the end result.
Basic Yarn Dyeing Supplies:
-Old pots, roasting pans, glass casserole dishes
-Gloves
-Plastic cups, spoons (for mixing dye powder)
-Face mask
-Chop sticks (handy for moving yarn around gently)
-White vinegar (for acid dyes)
-Plastic wrap
-Squirt bottles or small cups
-Heat source s.a. stove or hot plate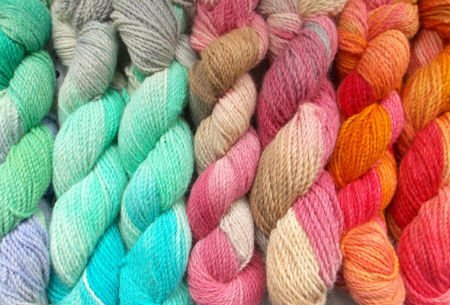 How Do Dye My Yarn?
There are lots of different methods for dyeing yarn such as hand painting, kettle dyeing, submersion dyeing, etc. I have a few tutorials to get you started:
Hand Painting
With Hand Painting, you apply the dye onto the yarn directly by hand. It gives you control over the exact placement of the dyes and therefore the look of your yarn.
The dye will bleed somewhat, but not as much as with other dyeing methods. Hand Painting can be done with squirt bottles, cups or paint brushes. After applying the dye, the yarn is then heated to set the dyes.
How to Hand Paint Yarn
Kettle Dyeing Yarn
The main difference in Kettle Dyeing is that the yarn is placed inside a pot, pan or kettle and the dyes are poured on in sections. This gives you less control than with hand painting as the dyes tend to run and blend. The dye is then heat set in the same kettle.
How to Kettle Dye Yarn
Speckle or Sprinkle Dyeing
Speckled Yarn, Sprinkled Yarn, Spotted Yarn or Confetti Yarn … this dyeing technique goes by many different names. Basically, it's a yarn colorway that has a single or a few main colors with specks or dots of other colors. Kool Aid drink powder works great for this method.
How to Speckle Dye Yarn
Dyeing with Kool Aid Powder
If you're a beginner yarn dyer and don't want to invest in expensive dyes or equipment, you can make beautiful yarns with Kool Aid powder. No special pots or pans needed as it is food safe.
Dye Yarn with Kool-Aid
Self Striping Yarn
Self Striping Yarn is yarn that is dyed to repeat the same color or pattern over several rounds of knitting. This type of colorway is often used with knitting socks.
How to Dye Self Striping Yarn without Special Tools
Dyeing with a Slow Cooker or Crock Pot
A Crock Pot can be used to heat set dyed yarn or you can dye the yarn in the Crock Pot itself using the Kettle Dyeing Technique.
Dye Yarn with a Slow Cooker or Crock Pot
Easily Dye Semi Solid Yarn
By winding my skein of yarn into ball or cake, I figured out a simple way to dye semi solid (almost gradated) yarn.
Easy Way to Dye Semi Solid Yarn
This is my favorite book so far for any yarn dyer, beginner or advanced. I highly recommend it!
Here is an interesting article on the chemistry of dyes and dyeing.
What do you think? Ready to try hand dyeing some pretty yarn? Let me know how it turns out and if you have any questions, feel free to ask!
Enjoy,
Annette
FiberArtsy.com
Dyeing Yarn: A Beginner's Guide