Updated!
I love to dye yarn with Kool-Aid!! Why? It's super easy. If I'm in the mood to quickly dye some yarn, but don't want to pull out my professional Acid Dyes
, I just reach for some packets of Kool-Aid. They are color fast and food safe so you can use whatever pots and pans you have in the kitchen. No special equipment needed. Plus, it's lots of fun for kids to do!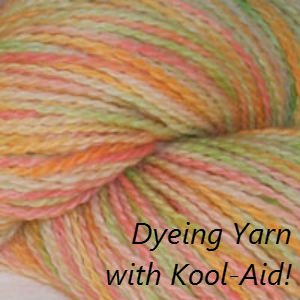 You may also like:
Beginner's Guide to Hand Dyeing Yarn
How to Speckle Dye Yarn
How to Hand Paint Yarn
Kettle Dyeing Yarn
(This post contains affiliate links, which means that if you click on one of the product links, Fiberartsy may receive a small commission)
Supplies Needed:
–White Wool Yarn
(make sure it's wool s.a. sheep, alpaca, etc. it won't work with Synthetics)
–Kool-Aid Packets– unsweetened
–Pots & Pans
-Water
Soak the Yarn
Start by soaking a skein of the yarn
in a pot with very warm water. No vinegar needed … the Kool-Aid has plenty of acid in it. Let sit for about 30 minutes and then drain all but about 1″ of the water. Try not to move the yarn around too much as this can cause felting.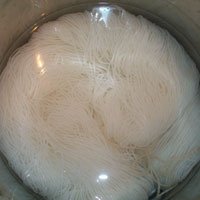 Mix the Dye
Here's where the fun starts. Mix one packet of Kool-Aid per cup of water, don't add sugar. For this skein, I used Orange, Lemon Lime and Watermelon Cherry.
Carefully pour each color onto the yarn. Basically, picture a pizza cut into slices and put one color on each piece. Use chopsticks or a spoon to gently move the yarn a bit to let the color reach the bottom.
Setting the Dye
Once all of the color has been applied, set the pot on the stove and turn the burner to medium high heat. When the water begins to simmer, turn heat down to continue a low simmer for about for about 20 minutes or until the water is clear and the dye has been absorbed into the yarn.
Heat Setting can also be done in the microwave by placing your yarn in a glass dish, applying the dye and microwaving on High at 1 minute intervals until the dye is absorbed. Let the yarn cool to room temperature and rinse in room temp water. Hang to dry.
And there ya have it! One thing I have found is that the yarn sucks up the dye very quickly. If you don't like white areas, use more dye packets.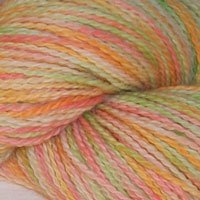 A couple of notes: Lemonade (yellow) has very little dye in it. If you want yellow, either use lots of packets or substitute yellow food dye.
Also, Watermelon Kiwi has NO color in it.

Have a wonderful week everybody!
Annette