Hand Painting Yarn or Wool is easy!
Learn how to dye your yarn correctly with this step by step Yarn Dyeing and Painting Tutorial
There are many different methods and ideas on how to hand paint yarn. Some people like to apply the dye with brushes or cups but I have found that squirt bottles give me more control over the amount of dye applied.
More Yarn Dyeing Tutorials …
Beginner's Guide to Hand Dyeing Yarn
How to Kettle Dye Yarn & Fibers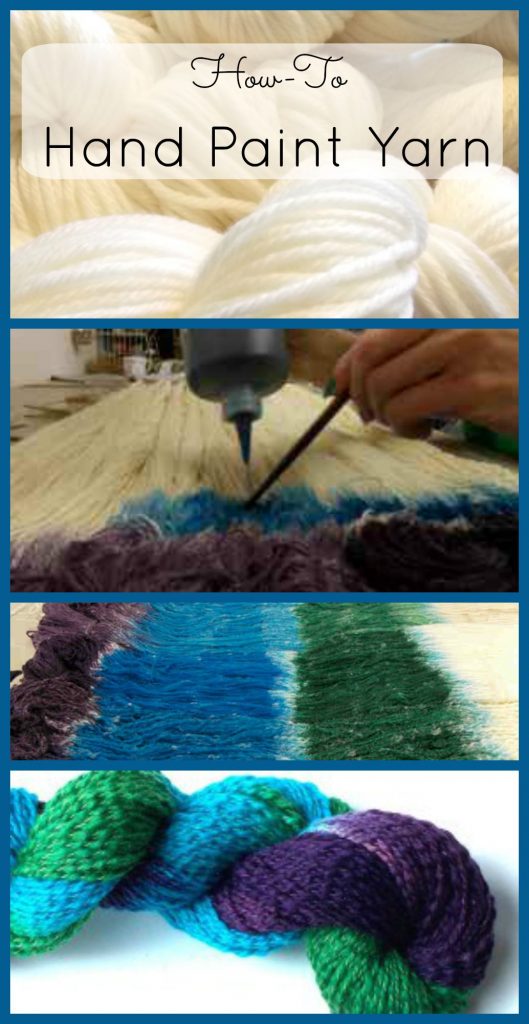 (This page contains affiliate links which simply means that if you click through and buy or sign up, this site will get a small commission, at absolutely no extra cost to you.)
Wool and Yarn Dyeing Supplies:
Yarn s.a. Protein Wool Yarn
(Must be protein fiber s.a. Sheep, Alpaca, Mohair, etc); Knit picks also has a nice selection of Dye Your Own Yarn blanks
Jacquard Acid Dyes
My favorite dyes!
Digital Scale
– The little black box to measure the dye
Dust mask – You don't want to breathe the dye powder!
Squirt bottles
Plastic wrap
Chopsticks
Soaking the Yarn
The first step is to soak your yarn in warm water with some vinegar added. (This is the 'acid' in acid dyes). I usually paint about 8 to 10 skeins at a time so I add about 1 cup of vinegar. Let your yarn soak for about an hour.
While your yarn is soaking, mix up your dyes. The instructions are on the dye bottles so I won't go into the details other than to say that for most colors I mix approximately .3 oz per 1/2 gallon of water.
Next you want to remove your yarn from the water and let it drain for a bit. About 20 minutes or so. You don't want it to dry out but it also shouldn't be dripping wet. Squeeze out the excess water.
Lay down a length of plastic wrap and place your yarn on top. The plastic should be larger than the area of your yarn.
Applying the Yarn Dye
Now the fun starts! With the squirt bottle, begin applying your dye. Use the chopsticks to carefully move the yarn to make sure the dye penetrates to the bottom of the skein.
When switching colors, I will usually leave a small gap to give the colors a chance to blend together.
After all of the color is applied, I use newspapers to soak up the excess dye.
Setting the Dye
Next, you want to roll your yarn up in the plastic wrap. Place it in a large pot with a steamer basket or something to keep it out of the water.  Add water to the pot, bring to a boil and simmer for about an hour. Let the yarn cool overnight.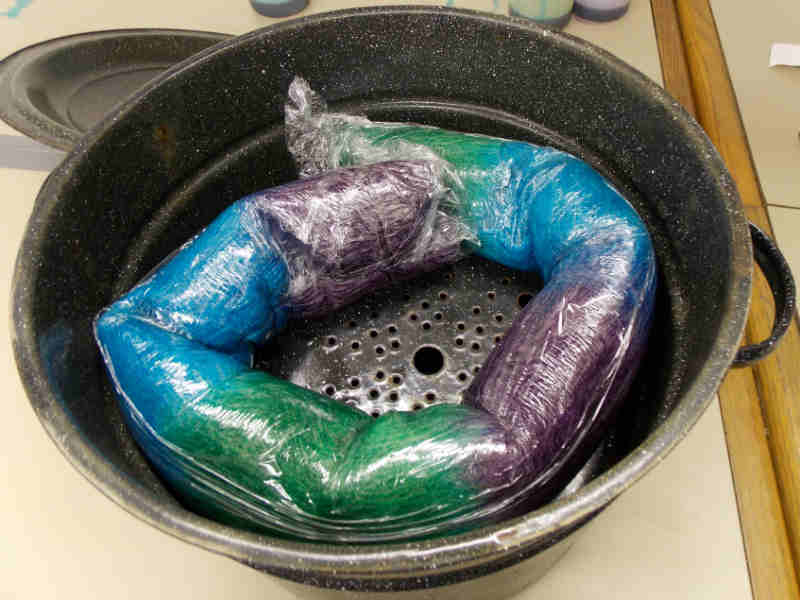 Next, rinse your yarn thoroughly in luke warm water until the water runs clear. Fill a bowl with water, add some dish soap and place your yarn in the bowl. This will help to remove any excess dye particles that didn't adhere to the yarn. Rinse the yarn again and hang it up to dry.
Voila! Hand painted wool yarn.
Here is a skein of hand painted yarn from my alpaca farming days called "Tutti Fruitty". This was 80% Alpaca Fiber, 20% Merino Wool in a DK Weight. I dyed it with bands of purple, turquoise, emerald, aztec gold, yellow sun and crimson red, all Jacquard Acid Dyes for wool.

I hope you found this tutorial helpful. If you have any questions about these dyeing instructions, please let me know.
Happy Day!
Annette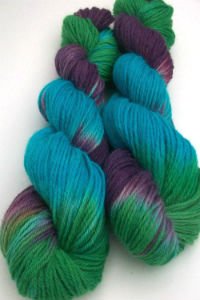 More info on Dyeing Yarn and Wool:
Beginner's Guide to Hand Dyeing Yarna>
How to Kettle Dye Yarn & Fibers
Here's another good tutorial on hand painting yarn from Dharma Trading.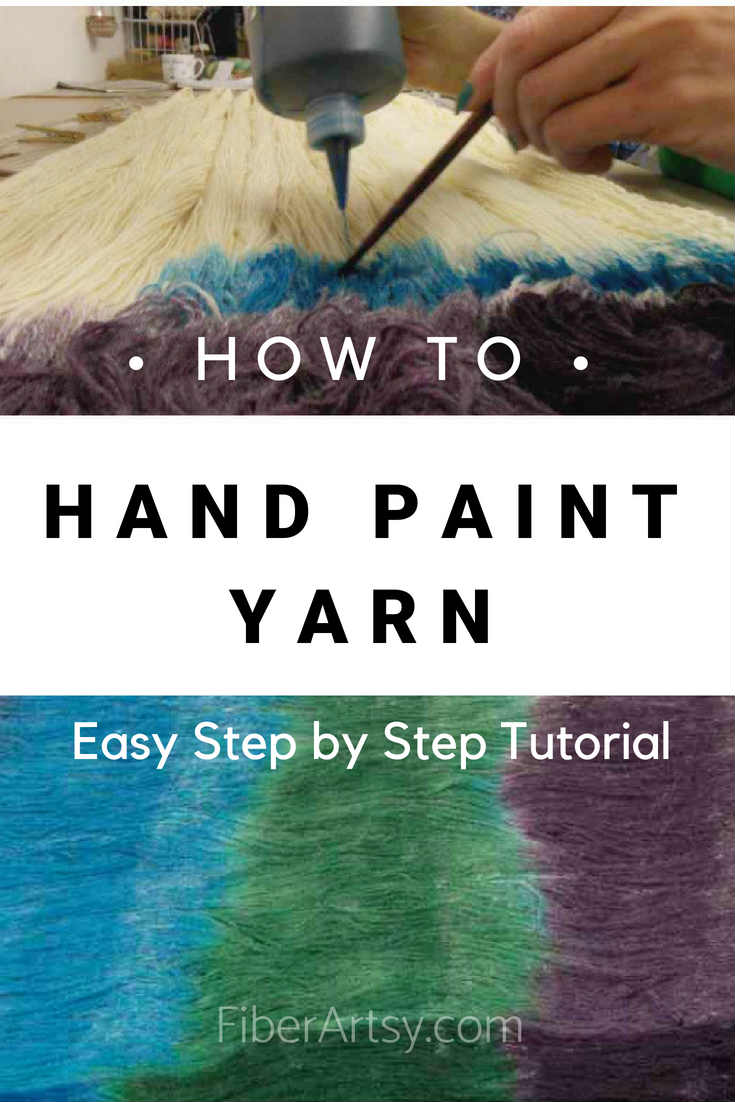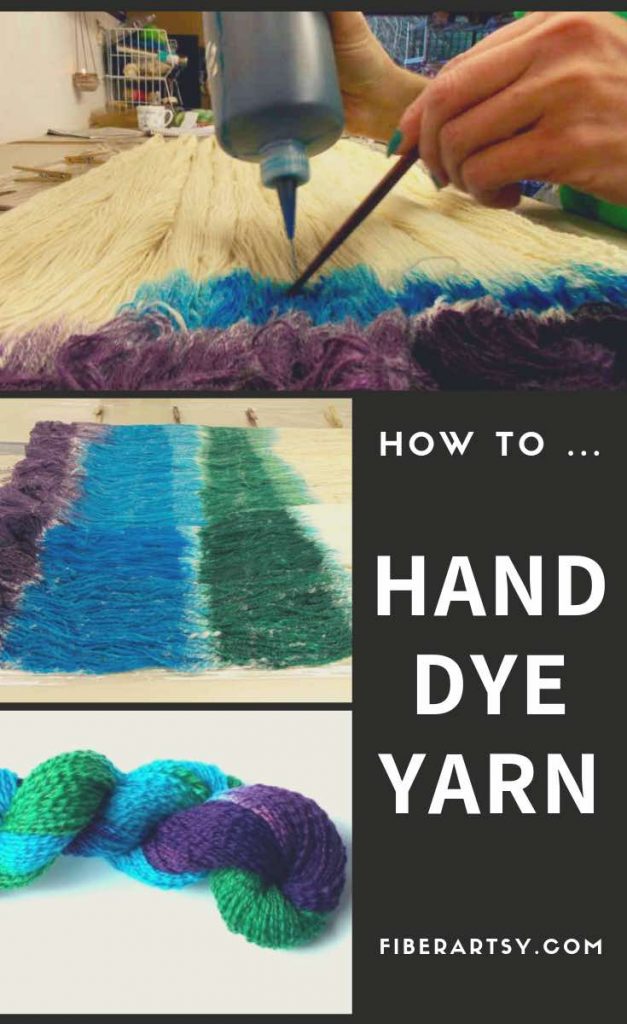 How to Hand Paint Yarn