Making Felt Easter Eggs is Easy! A great felting project for the Beginner.
Here's a fun and unique way to decorate your Easter Eggs by covering them with colorful felted wool fabric rather than the traditional Easter Egg Dyes Tablets.
There are so many fun ways to decorate Easter Eggs with paint speckles and decoupage to printing with silk ties. Why not try something new this Easter with this fun wet wool felting technique?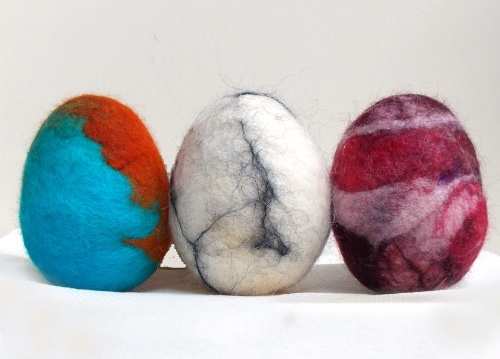 It may sound complicated but felting is actually really easy. Basically, all you are doing is wrapping a plastic Easter Egg with wool roving.  Then, you will apply warm water, soap and agitation which causes the wool fibers to adhere to each other.
As you continue to work with wool on the egg, the fibers bond together forming a layer of felt. Trust me, it's easy!
By the way, this is a really great way for beginners to learn about the wool felting process. Plus, this is a fun Easter Egg craft for kids, too.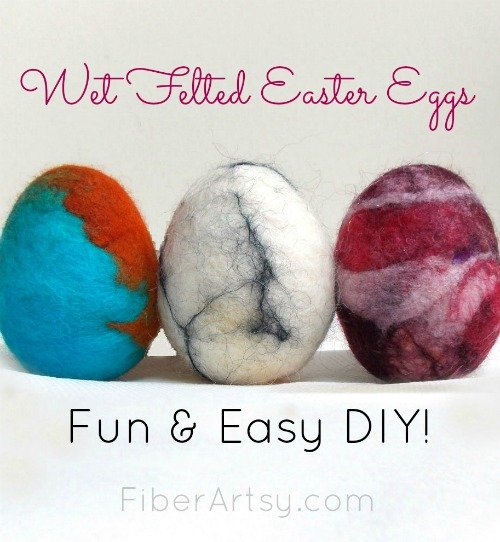 (This post contains affiliate links, which means that if you click on one of the product links, Fiberartsy may receive a small commission)
Just a little background … a few years ago, when I first started getting serious about this blog, I shared a tutorial on how to cover Easter Eggs with felted wool.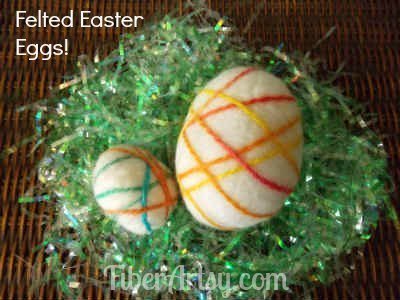 Yikes! Did you see it?? The tutorial itself is pretty good and accurate but the photos?? Ick!
Consequently, I decided to felt up a whole new batch of Easter Eggs to show you how pretty they can really be (and how much better are my photos now??).
By the way, if you are totally new to wet and needle felting, you may want to start with my Beginner's Guide to Felting.
Also, here's another great felting project for beginners: How to Make Felted Dryer Balls?
Felting Supplies:
Disclosure: This page contains affiliate links which simply means if you click through and buy or sign up, this site may get a small commission, at absolutely no extra cost to you.
– Wool Roving – Any kind (sheep, alpaca, etc)
– Plastic Easter Eggs
– Nylon Hose
– Warm water & dish soap
– Washer
For this tutorial I used this raw wool fiber and roving:
Wrap the Wool Around the Easter Egg
The step by step wet felting instructions are basically the same, regardless of  whether you use raw wool fiber or roving. Specifically, you wrap the Easter egg inside the wool.
Most importantly, you just need to make sure to cover each part of the plastic egg with a good, thick layer of the fiber.
(Hint: put a piece of tape all around the egg along the joint to keep it from coming apart)
First, you need to take a piece of roving and thin it out fairly evenly. Next, place one of the plastic eggs in the center and wrap the sheet of roving around it, tucking in the corners as much as you can.
Then you take a second strip of roving and wrap it around the egg in the opposite direction of the first layer. Just make sure the entire egg is completely covered. Tuck in any big lumps as those are harder to felt than thin areas.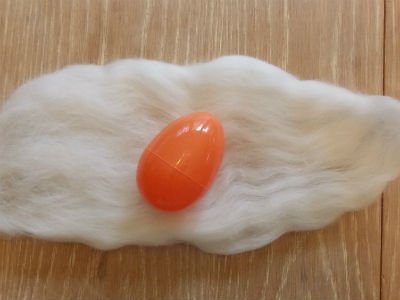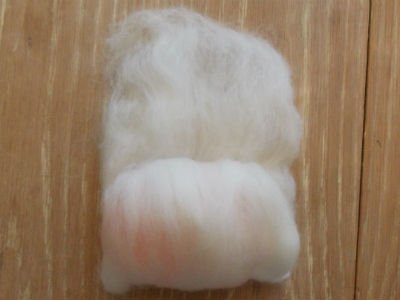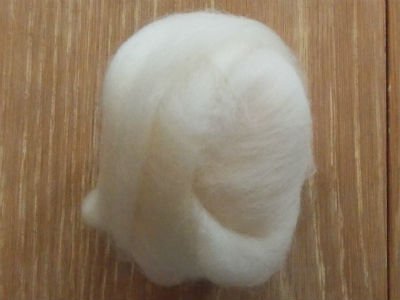 Felting The Wool Around The Egg
Now you start the actual felting process. Begin by sprinkling the wool wrapped egg with warm, soapy water. Using your hands, work the water all the way into the fiber. At this point you can add decorations such as yarn or wool locks, if desired. Wet the yarn and/or decorations.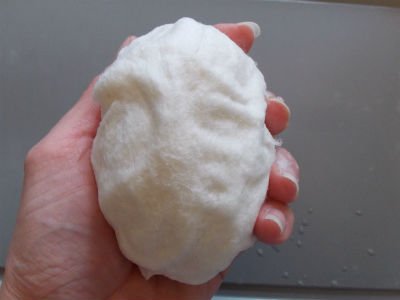 (In the previous tutorial, I added yarn for decoration)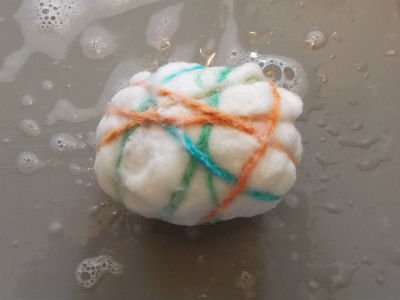 Wash & Dry the Felted Egg
Work the fiber with your hands for a couple of minutes, just to begin the felting process.
Now, carefully place your felt eggs in the panty hose and tie a knot at the top of each one. Put them in the washing machine and with detergent and hot water and run through a normal wash cycle.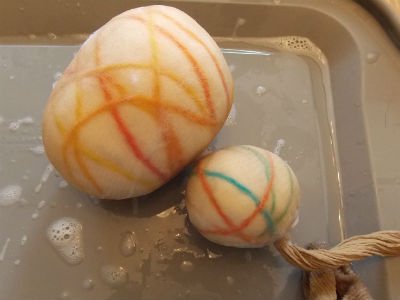 Finally, when the washer is finished, take the eggs out and cut off the nylon hose. Lay them out to dry completely.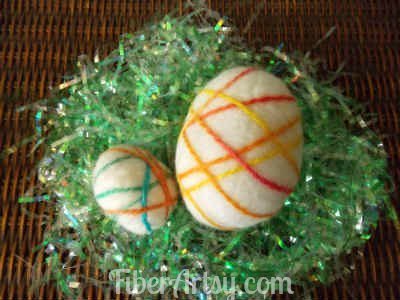 Here are the new Felted Easter Eggs
Hand Dyed Merino Sheep Wool in Turquoise to Burnt Orange: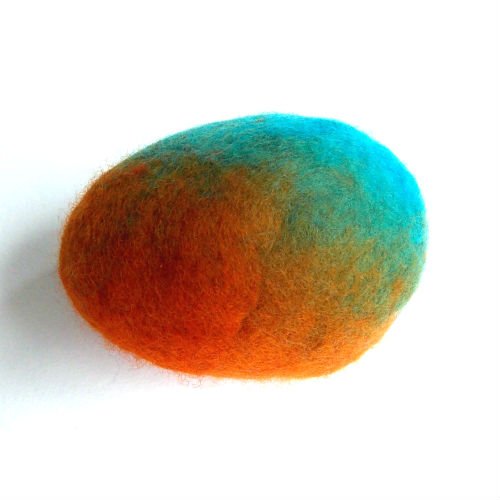 "Marbled" Felt Easter Egg with Natural White Wool Roving and Black Fiber veining: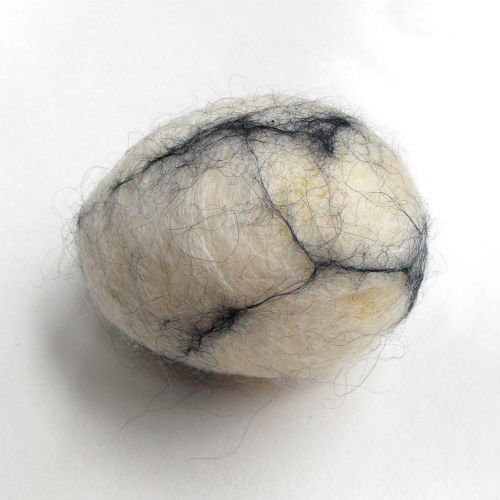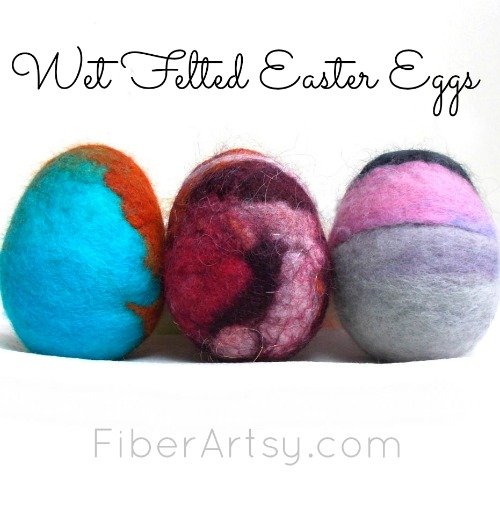 That's all there's to it. This is a great felting project for beginners or kids. Children are naturally great at wet felting and they love being able to play with soapy suds and wool.
Enjoy!
Annette
FiberArtsy

Related Easter Egg Decorating Ideas
Natural Easter Egg Dye with Onion Skins (Marbled!)
Printing Easter Eggs with Silk Ties
Decorating Easter Eggs with Yarn
Easter Egg Decorating Ideas for Adults
How to Dye Yarn with Easter Egg Dyes
Related Wool Felting Tutorials
Basic Wet Wool Felting
Nuno Felt Technique
Cobweb Felting
Lattice Method
3D or Resist
DIY Felted Dryer Balls
Wet Felted Easter Eggs
How to make Felted Soap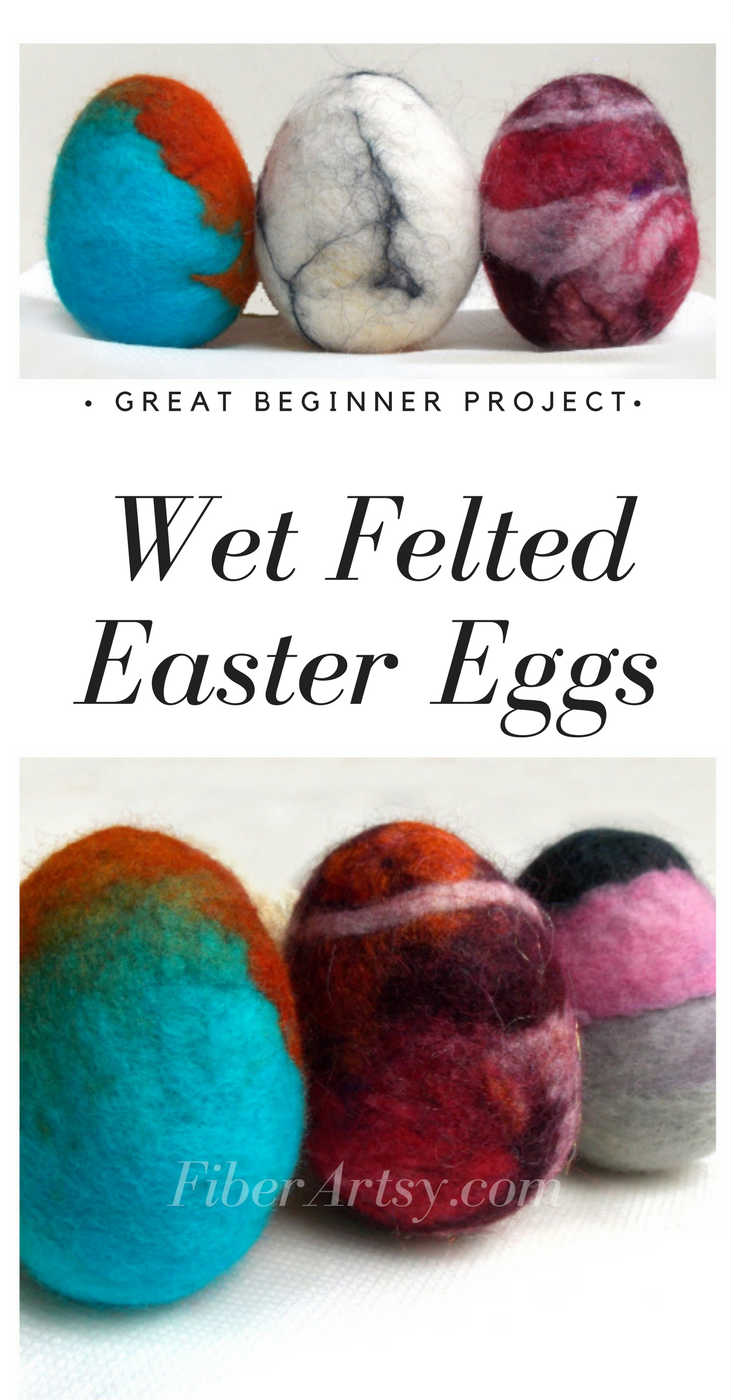 How to Make Felted Easter Eggs