How to Felt Wool – Basic Wet Felting Method
Part 1 – Wool Felting Series: Basic Wet Felting
Wet Felting is one of my passions. I get completely lost in making a unique piece of colorful fabric from alpaca fiber or sheep wool roving.
It's like magic watching the individual fibers and hairs bind together to make fabric that you can cut or sew into clothing.
This is the first part of my Wet Wool Felting Series. The other wet felting tutorials in the series include Nuno Felting, Cobweb Felting, Lattice Felting and Vessel Felting aka How to Make a Felt Bowl.
Part 1 will show you the basic steps involved in wet felting wool. I will teach you step by step how to take the loose wool locks or wool roving and create a piece of fabric. Once you have the basics down, you can wet felt just about anything!
If you're a beginning wet felter, you may be interested in my article Felting: A Beginner's Guide.
More Felting Tutorials….
Part 2 – Cobweb Felting Technique
Part 3 – Nuno Felting
Part 4 – Lattice Felting
Part 5 – Part 5 Resist Felting
How to Needle Felt (for Beginners)
(This post contains affiliate links, which means that if you click on one of the product links, Fiberartsy may receive a small commission)
What Is Wet Felting?
Wet Felting is the process of connecting or blending wool or fiber together to make a fabric. Here is how Wikipedia defines Felting.
Wet Felting Supplies
Disclosure: This page contains affiliate links which simply means if you click through and buy or sign up, this site may get a small commission, at absolutely no extra cost to you.
– Wool Roving (sheep, alpaca, goat, etc.)
– 2 Pieces of Bubble Wrap or Matchstick Blind**
– Hot water
– Dish detergent (if your piece is white, use white or clear detergent)
– Squeeze bottle (a soda bottle is fine – partially cover top with your thumb)
– Plastic for your table
– Old Towels
How much wool roving you need depends on how large a piece of felt you want to make. This felted piece will be about 20″ x 12″ so 2 ounces of alpaca or wool roving is plenty.
I'm using hand dyed merino wool roving for the front and light fawn alpaca roving for the other side. If you prefer, you can use just one color of fiber.
**If you're going to do a lot of wet felting, a Matchstick Blind is a great felting tool. They are durable and last a long time. Bubble wrap is a more affordable option if you're only doing one or two projects.
1. Lay Out Your Wool Fiber
First, you want to cover your table with the plastic. Felting uses a lot of water so you may need to cover the floor as well.
Next, you will place a large towel on the table and then the matchstick blind or one piece of bubble wrap on top of that.
Now, take a piece of the roving (I used the dyed merino wool) and pull thin tufts from one end. Lay these fibers down in a row, overlapping the layers by about 1/2″. Make sure all the fiber is going in the same direction.
Add a second row, again overlapping the fiber about 1/2″ and overlapping the rows. Add more rows of wool fiber until your piece is about 30% larger than the final size you want to allow for shrinkage. Fiber shrinks as it is wet felted.
2. Wet The Wool
Fill your bottle with hot water and add a few squirts of the dish soap. Gently shake and then generously sprinkle the water on your layer of wool fiber.
Next, place your hands flat on the wool and move them slightly back and forth. You want to work the water into the fiber without moving the actual fiber too much. Add more water if needed.
Make sure all of the wool is thoroughly wet because dry pockets inside the layer of wool fiber will not felt.
3. Add Another Layer of Wool
Once the first layer of wool is wet all the way through, add the second layer. In this piece, I used the light fawn alpaca roving for the back. The important thing to remember here is that the second layer needs to be perpendicular to the first. Ex: If the first layer of fiber was laid down horizontally, the next layer needs to go vertically.
Follow with Steps 1 and 2: Pull thin tufts and lay them on top of the first layer. Sprinkle and work the water in with your hands.
4. Add the Third Layer of Wool Roving
Using the same colored roving (light fawn), lay down Layer 3 the same as before, perpendicular to the previous layer, overlapping all rows. (Layer 3 goes in the same direction as Layer 1)
Repeat Step 2: Sprinkle and work the water into the wool with your hands.
5. Add Layer 4
Since I want the outside of this fabric to be colorful and the inside plain, I now need to flip the piece over. Place the second piece of bubble wrap on top of your wool fiber and flip the whole thing over. Layer 1 should now be at the top.
One more time … Steps 1 and 2 – Add the final layer of wool the same as before, using the dyed wool roving, place tufts of fiber perpendicular to the underlying layer. (Layer 4 fiber needs to go in the same direction as the fibers from Layer 2). Sprinkle and work the fiber with your hands.
Pre-Felt the Wool
Now the real work begins! Place the second piece of bubble wrap on top of your fiber and begin rubbing with the flat of your hand. Work the entire piece – don't forget the edges – in all directions, gradually increasing pressure. Do this for about 5-10 minutes.
Test Your Felt with the Pinch Test
Carefully peel back the top layer of bubble wrap and with your thumb and forefinger, pull up lightly on the top layer. Is the wool roving holding together? If it is, move on to the next step. If not, sprinkle with more hot water, replace the bubble wrap and continue working the fiber.
Fulling The Felt Fabric
Fulling is the final wet felting stage where the fibers shrink and harden. With your wool sandwiched between the two layers of bubble wrap, roll up one end and then roll the whole thing into another towel.
Using your hands, roll the package back and forth. Do this for about 5 minutes. If it comes apart, just roll it back up and continue.
Finish Your Wool Felt
Finally, the last thing you want to do is throw your piece down on the table. That's right, throw it! This is where the shrinking occurs. Throw it 30 times and check it. Stretch it out, throw it some more. It's really up to you at this point and how you want your piece of felt to look.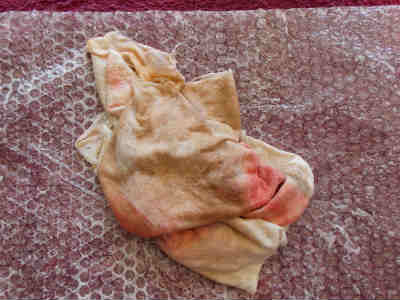 That's it! Rinse your wet felted fabric thoroughly and hang it to dry. What can you do with your piece of felt? Anything you can do with fabric. To see what I'm going to do with mine, come back next week 🙂
Here is a DIY Journal Cover I made with a piece of wet felted fabric. (Great DIY Gift Idea)
Get all of your wet felting supplies in a handy Wet Felting Kit
Update! Here's what I did with my felted fabric. What would you do?
Related Felting Tutorials
What is Felting? A Complete Beginner's Guide
Wet Felt: Adding Color & Texture the Easy Way
How to: Lattice Felting
Wet Felted Easter Eggs
How to Make Felted Dryer Balls
How to Needle Felt (for Beginners)
DIY Wool Dryer Balls with Needle Felt Designs

Wet Felting Basics – Part 1 Felting Series