Shibori Dyeing Kitchen or Tea Towels with Rit Dye Powders
Learn how to dye fabric with Shibori Dye or Tie Dye Folding Techniques.
White kitchen towels? Boring!! I tell ya, nothing is safe around here. If something at my house is a solid color, it's only a matter of time before I add some bright color and dye it up. So, I started researching various Shibori Dyeing techniques.
By the way, my absolute favorite fabric to experiment with are these 100% Cotton Flour Sack Towels. Not only do they take the dyes really well, but they are wonderful dish towels to use in the kitchen.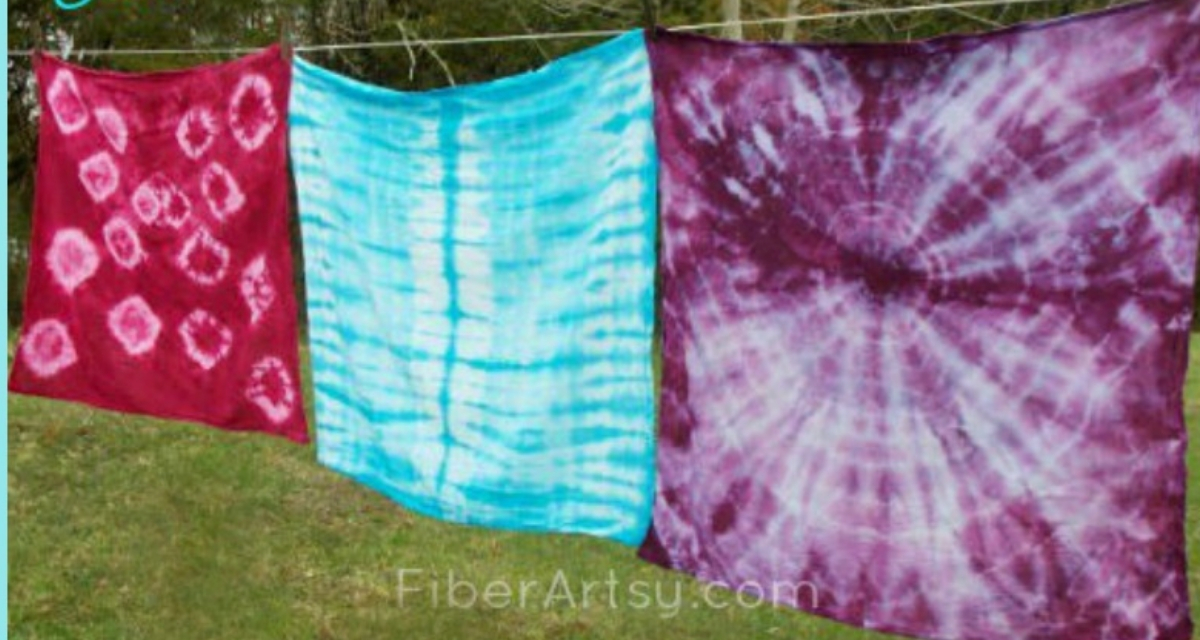 In the past, I've explored basic tie dyeing like the spiral or accordion folds which are closely related to shibori dyeing techniques. Both are forms of resist dyeing.
Now, if you've been following my dyeing tutorials, you know I usually use professional yarn or fabric dyes. (My favorites are Jacquard Acid Dyes for protein fibers.)
Sometimes, however, I'll experiment dyeing with Kool-Aid or food coloring. This time, I wanted to see how good Rit Dyes are. I must say, I was impressed with the depth of color I got on these tea towels.
(This post contains affiliate links, which means that if you click on one of the product links, Fiberartsy may receive a small commission)
Why Use Rit Dyes?
Why should I use Rit Dyes instead of professional fabric dyes? The main reasons Rit might be better are price and availability. Rit Dyes are pretty inexpensive and come in a rainbow of colors. Plus, you can find them at almost any grocery store, craft shop like Michaels or Walmart.
Rit Dyes are what is known as 'composite dyes' which means they will dye a variety of fibers from cotton and rayon to wool.The drawback is that you don't get the high quality color saturation of professional dyes. But, for the home dyer or crafter, Rit dyes are a great option.
Shibori Folding Techniques
As you can see, I dyed my tea towels using 3 different Shibori Dyeing or Tie Dye methods. The purple one was dyed with the Kumo Shibori method which I showed you with this Kumo Shibori Technique post. (I mixed turquoise & fuscia)
The turquoise blue towel was dyed with the Suji Shibori method just like the Shibori Suji Dyed Wet Felted Shawl.
Now, I am going to show how to dye the fuscia towel using rocks and marbles as a resist. I'm not sure what that shibori technique is called but basically, all you do is tie rocks into the towel which results in pretty sunbursts or circles.
Fabric Dyeing Supplies:
Disclosure: This page contains affiliate links which simply means if you click through and buy or sign up, this site may get a small commission, at absolutely no extra cost to you.
– Flour Sack Dish Towels (I use these towels every day)
– Liquid Rit Dye (I used Fuchsia)
– Rocks or Marbles
– Thread
– Old Pot (no longer used for cooking)
– Salt
– Hot Water
– Stove
Shibori Folding or Tying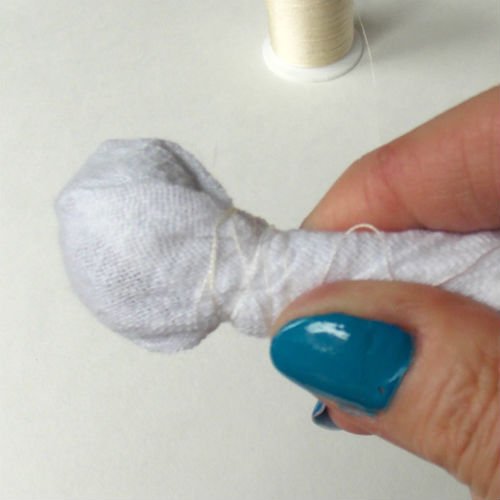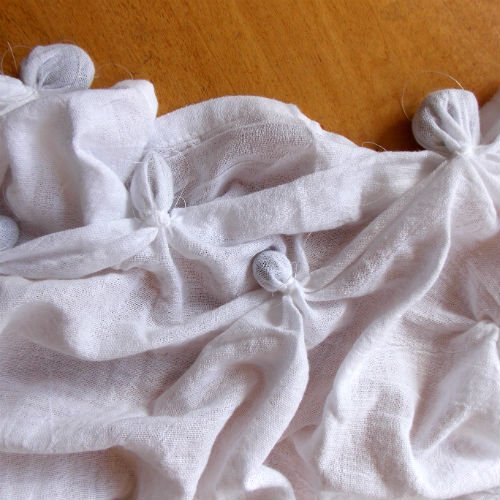 First, you will take a rock or marble and tie it into one of your towels. Wind the thread tightly around the base of the rock several times to make sure it doesn't come undone. Next, tie a knot and cut the thread.
Repeat tying rocks into the tea towel wherever you want the designs to show. Meaning, you can tie rocks all over the towel, just along the edges or perhaps only in the center of the fabric. There is no wrong way to do this. It's entirely up to you!
Shibori Dyeing the Towels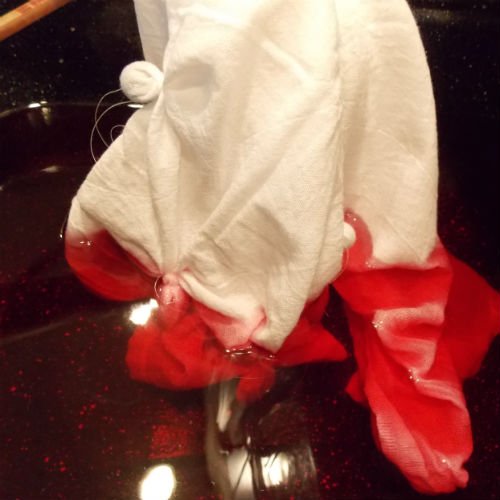 Fill your pot with hot water, then add about 1/2 cup of salt. Stir to dissolve. Carefully, add the dye to the water. The more dye, the deeper the color. I used about 1/2 of the bottle to get a nice, strong fuscia.
Place your rock wrapped towel in the dyebath. Start with high heat, then turn down and simmer for 45 minutes.
Finishing Your Shibori Dyed Tea Towels
After the allotted time, very carefully remove the towel from the dyebath. Old tongs are a big help! Rinse thoroughly in warm water until the water runs clear, then remove the thread and rocks and continue rinsing until the excess dye has been removed. Finally, rinse with cold water and hang to dry.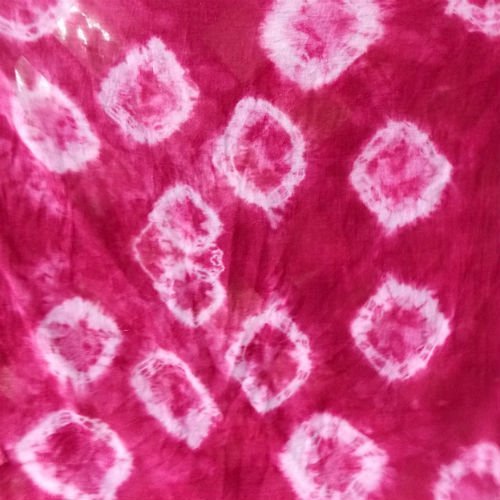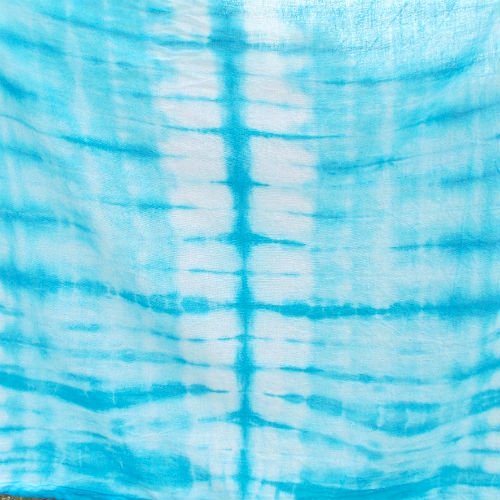 Pretty! Wash your dyed dish towels separately at first, just in case they bleed. Although, with proper heat setting and rinsing, that should be minimal.
Great DIY Gift Idea! These tie dyed kitchen towels make wonderful homemade Christmas Gifts.
If you're interested in more Shibori, Dharma Trading Company has a great article on the Art of Shibori Dyeing.
Also, make sure to check back for my review on the Jacquard Indigo Dye Kit. I'm hoping to grow some Indigo plants next year but until then, the kit will have to do.
What tie dyeing techniques have you tried?
Related Fabric Dyeing Tutorials:
How to Make Dye from Acorns
Natural Dyeing with Black Walnuts
Printing on Fabric with Silk Ties
Decorating Fabric with Bleach Pens
Reverse Tie Dyeing with Bleach
How to Paint Tiger Stripes on Tee Shirts
Expore Shibori Dyeing – Kumo Technique
Marble Dyed Silk Scarves
23 Tie Dye Projects and Fabric Dyeing Ideas