How to make an Iron Mordant or Iron Modifier for Natural Dyeing and Eco Printing
If you have dabbled with natural dyeing or eco printing of fabric, paper or yarn, then you are probably familiar with the use of Mordants to help affix the dye. This can be as simple as soaking in Soy Milk or Alum Powder or a little more involved such as this Iron Mordant Recipe which makes a simple liquid iron mordant or iron modifier.
What is a Mordant?
In a nutshell, a mordant or fixative is a substance (often metallic) that helps the natural dye adhere to your material. It 'fixes' the dye. Confusing, right? Well, the problem with fabric dyes made from plants, food or mushrooms is that they are usually not colorfast and so they rinse right out of your fabric.
It's so disheartening when you work really hard to make a beautiful color dye stock only to have it immediately wash out. That's where a 'mordant' comes in. Simply put, it acts as a bond between your fabric and your natural dye stock. So, unless your dye material contains its own tannins (which I'll explain more later), a mordant is necessary to make the color 'stick'.
Mordants (and Modifiers) work for dyeing with natural materials such as leaves, flowers and vegetables but they are also great for Eco Printing or Eco Dyeing.
What is the Difference between a Mordant and a Modifier?
As I explained above, a Mordant is a substance which helps the natural dye adhere to fabric or yarn, making it more colorfast or washfast. A Modifier, on the other hand, is a substance which is used to alter the final color, often done after dyeing.
In some cases, the modifier will deepen the original color. With an Iron Mordant, the final color is darkened or 'saddened'. Other mordants can brighten the final dye.
In the photos below, I pre-mordanted the cotton fabric and the yarn with Alum Powder and dyed them using Blackberry Leaves, Queen Ann's Lace Flowers, and Avocado Pits and Skins. After dyeing, I dipped the fabrics in liquid Iron Modifier which instantly turned the colors a deeper brown, gray and blue.
The next photo shows a piece of cotton fabric that I mordanted with Alum Powder. Then I Eco Printed it with leaves from a Willow Tree. As you can see, there is a huge difference in the color of the prints. I did not pre-treat the leaves on the left side. The leaves on the right side were dipped in the iron modifier before printing.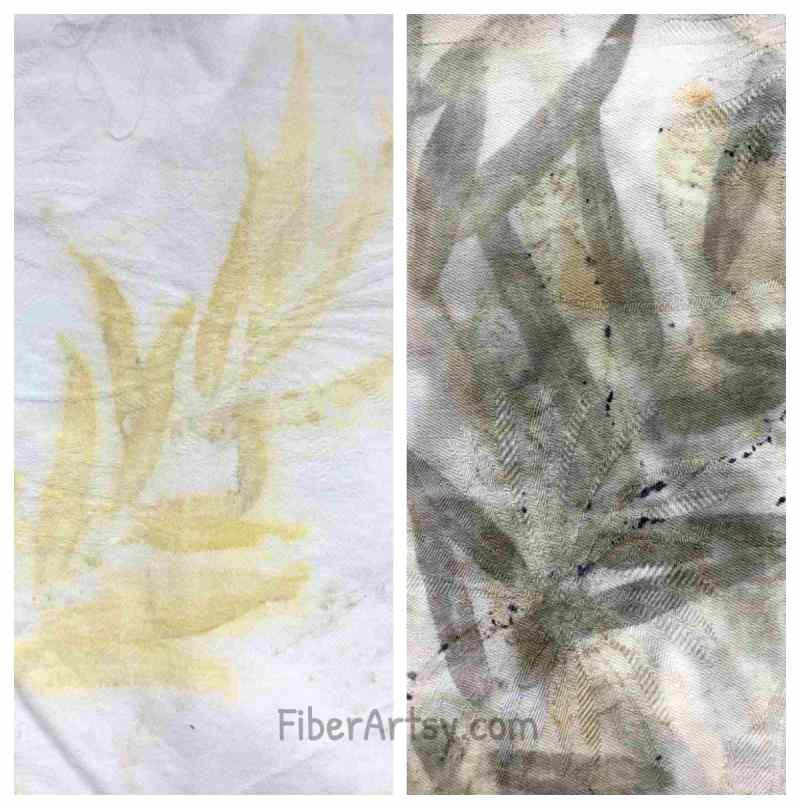 How Do You Make an Iron Mordant?
You can make your own iron mordant (modifier) with this super easy recipe. Just remember, it does need to sit for a few weeks so keep that in mind when you decide to dye your materials.
Here is how you can easily make your own iron mordant or modifier:
Disclosure: This page may contain affiliate links which means if you click and buy,
we may receive a small commission. See full Disclosure here for details.
Iron Mordant Recipe
Handful of Rusted Nails, Nuts, Bolts, etc.
1 Cup White Vinegar
2 Cups Water
Place the rusty nails, vinegar and water in the Mason Jar and loosely screw on the top. Let it sit for about 2 weeks. As you use the iron liquid, simply replace the water/vinegar in the jar at the same 2/1 ratio.

If you don't happen to have rusty nails and such, you can also make an iron liquid with this Water Soluble Powder.
How Do You Make a Copper Mordant?
Personally, I have only used copper as a modifier, not a mordant but it's my understanding that it works well for both. Copper tends to shift a dye color to green or blue. This is made exactly like the iron mordant recipe … just put it in mason jar and wait.
Copper Mordant Recipe
Piece of Copper pipe or tubing
1 Cup White Vinegar
2 Cups Water
Place all in your mason jar and screw the top on loosely. Let sit for about 2 weeks. If you don't have any copper available, you can also order copper sulphate online.
Which Natural Dyes don't need a Mordant?
Plants that contain tannins are naturally colorfast and therefore don't require a mordant. These include Black Walnut, Acorns and Sumac. If you have ever made a dye with black walnuts, you know that stuff stains EVERYTHING! No mordant needed.
Is Vinegar a Mordant?
In a word …. No. Vinegar is a Modifier but it is not a Mordant. Vinegar alters the PH of the dye which can change the dye color.
For more information on how to use mordants with natural dyes or plant dyes, here is a Great Article from Mother Earth News Magazine.
Iron Mordant Recipe