Now that ole man winter is knocking on the door, it's time again to add some insulation to the chicken coop.
Hey Annette, What does this have to do with art? Absolutely nothing! But it does have to do with fiber – in my case, alpaca fiber. And people are always asking me what they can do with alpaca fiber seconds or thirds (neck, leg and belly hair). This is a great use for it and believe me, your chickens will thank you!
Side note: Some people prefer to place a heat source in the coop. Where we live, the power goes out frequently in the wintertime. If that were to happen in the middle of the night, our chickens would freeze to death. This way, they get used to the cold and will be just fine 🙂
(This page contains affiliate links which simply means that if you click through and buy or sign up, this site will get a small commission, at absolutely no extra cost to you.)
[wp_ad_camp_1]
Supplies Needed:
-Wool or Alpaca Fiber (ask your local alpaca farm – they usually have a barn full)
-Large Feed Bags
-Darning Needle
-Thick Yarn (Preferably synthetic as it lasts longer. Probably the only time you'll hear me recommend synthetic yarn!)
–Heavy Staple Gun
Stitching
Fill your bags evenly with fiber, appr. 2″ thick. About midway up the bag, place a row of knots all the way across about 3″ apart. Think of an old fashioned quilt … simply poke the needle through both sides of the bag (with the fiber in between), pull it back up and tie the ends together in a knot. This will keep the fiber from falling to the bottom of the bags.
All that's left is to staple the bags to the inside of the chicken coop. They will settle and get icky and pooped on but should last all winter and help to keep your chickens warm.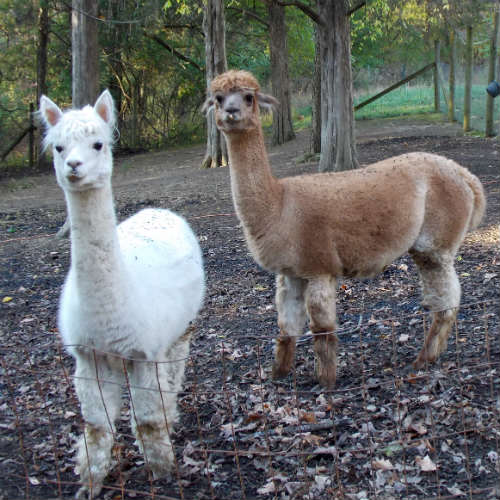 The girls wanna know what I'm doing with their fiber!
Home Sweet Home!
How do you prepare your chickens for winter?