'You can't use up creativity. The more you use, the more you have.'
– Maya Angelou
So true! Have you ever noticed new ideas popping into your mind while you are working on a project? That's usually when I get inspiration for new felted pieces or yarn colors. And the beauty is that Creativity is endless! There are more ideas around every corner. The well is never dry!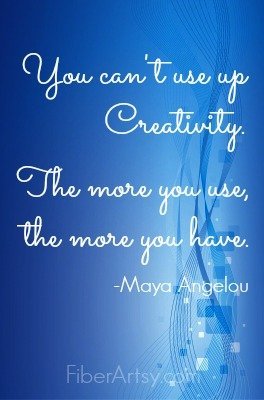 (This post contains affiliate links, which means that if you click on one of the product links, Fiberartsy may receive a small commission)
If, however, you happen to find yourself struggling to come up with a new idea, here are some things I do to get those creative juices flowing again:
– Take a walk
Literally! Nothing inspires my creativity more than nature.
– Search the Internet
Go to the old Google machine and search ART, then look at the images. That's how I found this incredible kimono made of glass!
– Take a class
Haven't you always wanted to learn photography? Pottery? By the way, Craftsy has 40 free, yes Free Classes
– Visit a library, museum or a historical place
– Do something completely new!
Altering your routine can refresh the mind.
Have a fun week, my friends!
Annette
FiberArtsy


What do you do to inspire creativity??
Image courtesy of Feelart of Freedigitalphotos.net