"Change the way you look at things and the things you look at change"
~ Wayne W. Dyer

Absolutely one of my favorite quotes from Wayne Dyer!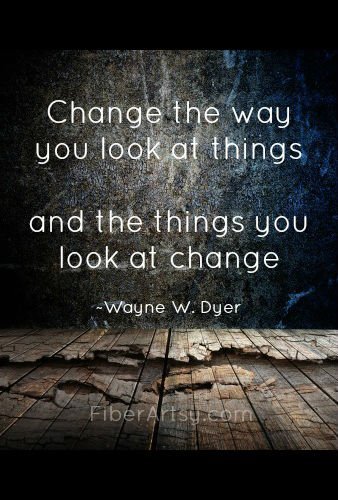 Study after study has shown that happiness has not much to do with your circumstances and everything to do with your attitude! The old … is the glass half empty or half full? So, all we have to do then is decide to be happy, right? Yeah, right. But it truly is that simple!


(This post contains affiliate links, which means that if you click on one of the product links, Fiberartsy may receive a small commission)
Have you seen the movie, "Happy"? What an eye opener. The film documents different groups of people around the world and assesses their happiness level.
My favorite story is about a father living in Calcutta, one of the poorest parts of this world. He is a rickshaw driver for tourists who are sometimes mean and throw things at him. But all he wants is to get home to his wife and kids. They live in a dirt floor shack that is half covered by a tarp which he calls his window! Big smile on his face as he plays games with his children. By our standards, he has nothing, yet he has everything!
Just a good reminder to step outside of yourself sometimes and look – really look – at all of your blessings.
I wish you a Happy Week!
Annette
Fiberartsy
FYI – you can rent Happy
right now for only $2.99
Enjoy!


(Image courtesy of twobee and FreeDigitalPhotos.com)